Since I had a week off between jobs (I got a new job - *insert body roll*), I decided that I wanted a quick getaway. And what better way to vacation than to leave the frigid temps of New York, and head toward the equator? I had some Delta gift cards, and found a pretty reasonable flight to Cartagena, so I booked it and started planning.
We stayed at the Atlantic Lux Hotel in Bocagrande. Note: This area is reminiscent of South Beach Miami. It's a strip full of hotels, shops and restaurants, and it's one block from the local beach. Some recommend staying in the Old City area if you want to reside closer to "the culture."
On day 1, we took it easy. After walking the Bocagrande strip to find lunch. We dined at Boca Rica, while being serenaded by a couple of local singers (yes, they wanted a tip after they finished singing, lol).
Then, we decided to catch a short cab ride to the Walled City to walk around. Now that I think about it, we didn't purchase anything while we were there, aside from the time I paid [way too much] for a bowl of fruit and took a picture with the "fruit ladies." We walked around, took in the beautiful buildings, listened to music, and sat and just observed our surroundings.
After that, I believe we headed back to the the hotel and chilled out until we turned in for the night (we only got a few hours of rest the night before due to our 6AM flight, so we were hella tired). Random, but at times, I'd open our balcony door just so that we could hear the city from the room, and so that fresh air was flowing through the room.
On Day 2, after eating breakfast at the hotel, we headed to the concierge to book a tour to a beach (the best beaches are accessible by 40 minute car or boat ride). We were too late to book something to one of the private beaches so we settled on La Playa Blanca, which was our original plan anyway. It cost us $60,000 COP (about $20 USD), and that included the round trip van ride plus lunch on the beach. When we arrived, we were greeted by a bunch of guys who were designated to tend to us while "relaxing" on the beach. As we were walking to the beach, they asked us whether we wanted chicken or fish for lunch. We opted for fish. They served it later, after we were settled right in front of the water. As soon as we got to the beach, I was overwhelmed. It was really crowded, and every other minute there was a vendor coming to us trying to sell us something. My friend didn't mind...but I did. I knew that there were reviews stating that this beach was a bit much, but I thought that was just typical TripAdvisor/Yelp culture. Luckily, the guys who were tending to us were sitting not too far from us and were watching over our items, and taking our drink orders whenever we needed them. Once I resolved to the fact that I could trust them, I started to enjoy myself.
If you ask any travel group on Facebook what you should do when you're in Cartagena, you will definitely be told that you should book "The Real Cartagena" tour or the Visit to a Palenque tour with Alex Rocha. I'm glad we did this on day 3. We opted to experience the real Cartagena (I will definitely do the Palenque tour next time I visit). Alex picked us up from our hotel in a nice van with about 14 other travelers, who happened to be black Americans as well. Right away, I knew this was going to be a great day. Alex has a great story, and you can tell he is doing awesome things in his community. He also has a wealth of knowledge about his city and country. The tour includes tasting of local food, plus lunch. My favorite things were the tamarind juice and sugar mangos. You'll get to see the old city, a very popular market, Alex' children's center, lots of art, and much more! It was worth every penny!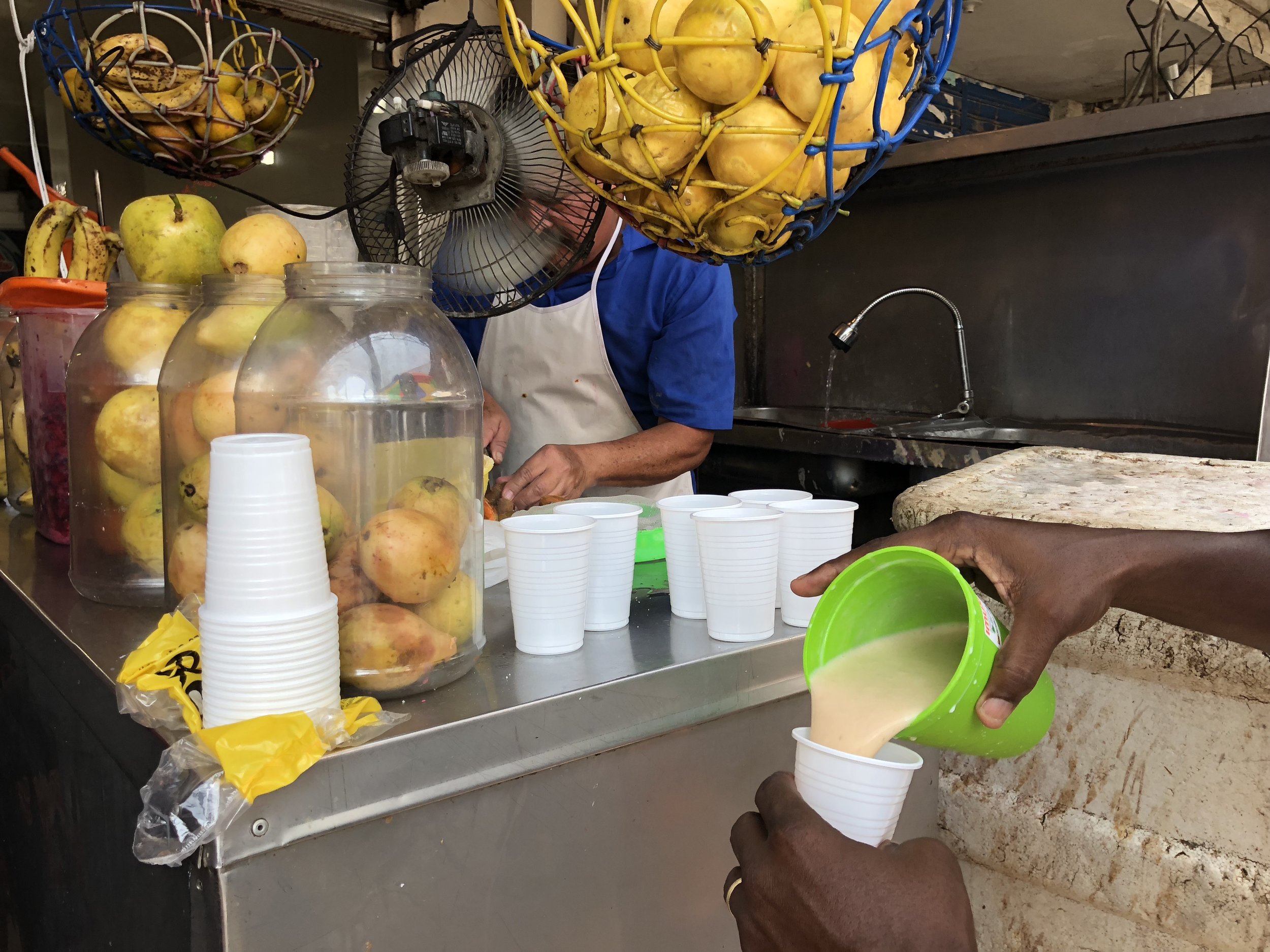 On the tour that day, we made a few friends, and they invited us out to have drinks with them that evening. First, we went to El Arsenal. Upon arrival, we were greeted by a waiter outside of the bar offering free hugs, and then when we sat down, we were given a couple small glasses of free rum and chocolate. To end the night, we walked down the street to another bar to take advantage of their 2-for-1 mojito specials, and then headed home.
On our last full day, we went on our Totumo Mud Volcano tour. We purchased these $35 tickets via Viator, and chose the morning departure, so lunch was included (lunch is not included for the afternoon departure, yet the tickets are the same price...so opt for the morning so you get the full bang for your buck). The process is pretty simple for that. You arrive at the location, get undressed, put away your things (your tour guide will watch your belongings in the changing room), and you give your phone or camera to one of the designated workers who will take pictures when you get in the mud. Note: You'll need to tip the guy who's taking your photos about $5,000 COP (which is a little less than $2 USD - very reasonable). You'll also need to tip this amount to the little boy who watches your shoes, and the ladies in the river who wash you off afterwards, should you choose to have them do so. To me, all three were worth it.
Okay, so...the mud. Once you get in, you can opt to get a massage or not (it's nothing special, but hey, it's only $5,000 COP). You can stay in the mud as long as you want, really, but if you're in too long, the workers may start encouraging you to get out, so that they can keep the line moving. We stayed in for about 15-20 minutes. I'll say this...I am happy I did it...for the photo op. But, it's not something I'd do again. I was a bit grossed out by being in the mud full of other random bodies. All I could think about were how the mud must have been filled with people's bodily fluids. When my friend said he was ready to get out, I thought "Thank God!" But again...I got my photos. After getting out, you walk down to the river and you can either wash yourself off, or have one of the ladies help you. Note: You won't have to have your cash on you while you're in the mud or river. Once you walk back to the dressing area, all of the people you got services from will be there ready to be paid, LOL. They somehow find you.
When we got back to our hotel, we caught a cab over to the beach area behind the Bocagrande Hospital to catch a speed boat over to the Tierra Bomba beach. Since it was the end of the day, there weren't many people there, and we pretty much had the beach to ourselves aside from some local children we met while in the water. When the cab dropped us off in the area to catch the speed boat, so many men ran up to us trying to get us to purchase their services for the speedboat. I was a bit overwhelmed but ultimately decided to go with the guy who spoke English. We paid $40,000 COP (approximately $14 USD) each, which covered the round trip boat ride and a set of chairs under a bungalow on the other beach. The guy who we purchased the ride from, took our drink orders and also stayed around to watch our belongings when we went in the water.
ProTips for Cartagena:
Brush up on your Spanish, and have your Google Translate app available. You'll need it. English is not as common there as it is in a lot of tourist cities.
Uber is available in Cartagena, but we found taking cabs was much quicker and easier. Make sure you settle on a price before getting the the cab. Most rides should cost between $7,000 and $10,000 COP ($2.50-$3.50 USD).
Have a currency converter app on your phone. I use GlobeConvert.
If you are renting an Airbnb, make sure they have hot water. Hot water is not a given with every home.
There are going to be vendors coming up to you at least once every thirty minutes trying to sell you something. If you're not interested in the product, say no, and stay firm on that. They don't take "no" for an answer right away all the time. Also, if you don't just say "no," you're opening yourself up to be bothered for that much longer. Keep it simple and move on. They'll walk away.
Do NOT take a massage on the beach unless you are ready to be over-charged. I've heard stories of them charging between $30 - $50 USD, which is a LOT of money! They were try to force a massage on you by rubbing your shoulders or feet. Say "NO!"
When it comes to Colombian pesos, try to carry small bills. A lot of vendors and taxis will claim to not have change. it's especially important to have small bills when at the mud volcano, since you're only tipping $5,000 COP for each person who's helping you.
Eat the fish!
What are some other ProTips you have?